ANKARA - The Greek Orthodox faithful in Turkey have 79 churches, 72 of them in Istanbul, reported Interior Minister Abdulkadir Aksu yesterday.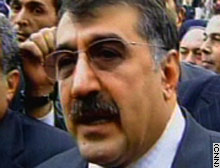 Aksu (pictured right) supplied the figures in response to Motherland Party (ANAVATAN) Istanbul Deputy Emin Sirin (pictured left), who, dissatisfied with a previous question on why the the activities of Fener Greek Orthodox Patriarch Bartholomeos aren't scrutinized under the Treaty of Lausanne, sent another motion to the Interior Ministry under right to information laws.
Sirin stressed that the patriarch has attended religious ceremonies, opened churches with religious ceremonies, participated in visits, receptions, celebrations, funerals, and religious tourism activities so far in Yalvac, Isparta, Avanos, Zelve, and Urgup in Nevsehir, Silivri in Istanbul, and Selcuk in Izmir.
In reply to Sirin's motion, Aksu explained that the Culture and Tourism approves the patriarch's movements related to religious tourism and religious ceremonies and the relevant governors' offices refer the matter to the General Directorate of Security. He added that the necessary measures are taken.
79 Greek Orthodox churches
According to Aksu, Greek Orthodox churches in the country are in the following places:
Canakkale: 6 (Bozcaada: 1, Gokceada: 5)
Istanbul: 72 (Fatih: 19, Edirnekapi: 1, Bakirkoy: 2, Zeytinburnu: 2, Kumkapi: 1, Eminonu: 4, Kadikoy: 4, Sariyer: 5, Yenikoy: 1, Sisli: 2, Besiktas: 9, Beyoglu: 5, Eyup: 1, Uskudar: 5, Beykoz: 2, Kinaliada: 1, Buyukada: 3, Burgazada: 3, Karagumruk: 1, Unkapani: 1)
Hatay: 1 (Arsus: 1)
read article
Copyright 2005 Journal of Turkish Weekly
The New Anatolian